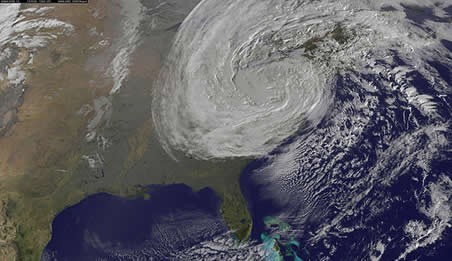 The American Meteorological Society's NYC/Long Island Chapter Seminars
at Columbia University, Sponsored by Columbia University's Fu Foundation
School of Engineering and Applied Science presents:
James Doyle
Head, Mesoscale Modeling Section, Naval Research Laboratory
January 31, 2013, 6:30 PM, Columbia University, Davis Auditorium, 412 Schapiro Center
"Predictability of Tropical Cyclones – Perspectives from Sandy and Irene"
Bio: James Doyle is the head of the Mesoscale Modeling Section of the Marine Meteorology Division of the Naval Research Laboratory, and a Fellow of the American Meteorological Society (AMS). He has been recognized for his contributions to the science of mountain meteorology and mesoscale predictability, significant scientific advancement in our understanding of terrain-induced gravity waves, micro-structure of leeside rotors, numerical methods, and adjoint-based mesoscale predictability. He has served in leadership roles in several field projects, and is an accomplished modeler as the chief scientist for the Navy's Coupled Ocean/Atmosphere Mesoscale Prediction System (COAMPS), as well as its tropical cyclone version (COAMPS-TC) that has been one of the best-performing hurricane intensity forecast models over the last several seasons, including particularly accurate forecasts for Irene and Sandy.
Hosts: Lorenzo Polvani and Philip Orton

---
Current American Meteorological Society's NYC/Long Island Chapter Seminar Schedule